Agarwood, also known as "oud," is a highly prized and aromatic resinous wood that is primarily produced by certain species of trees belonging to the genus Aquilaria, particularly Aquilaria malaccensis, Aquilaria agallocha, and Aquilaria crassna. The formation process of agarwood is quite fascinating and occurs in response to certain external factors, often referred to as "injuries" or "stressors," which trigger the tree's natural defense mechanisms. Here is an explanation of how agarwood is produced, including the formation process:
Agarwood-Producing Trees: Agarwood is primarily produced by Aquilaria trees, which are found in various regions of Southeast Asia, including India, Indonesia, Malaysia, Thailand, Cambodia, and Vietnam. Not all Aquilaria trees produce agarwood, and it is usually a response to specific conditions.
External Stressors: Agarwood formation is triggered by various external stressors, which can include:
a. Fungal Infection: One of the most common factors is the entry of a specific type of fungi, often from the genus Phialophora, into the tree through natural wounds or injuries.
b. Insect Infestation: Certain insects, such as the Ambrosia beetle, can also introduce the fungi into the tree when they bore into the wood.
c. Physical Injuries: Physical damage to the tree, whether through natural means like lightning strikes or human intervention like pruning or tapping, can also induce agarwood formation.
Tree Response: When the external stressor, such as the fungi or insects, enters the tree, the tree's defense mechanism is activated. In response to these threats, the tree produces resin as a protective measure.
Resin Accumulation: The resin produced by the tree accumulates around the affected area. Over time, as more resin is produced and deposited, it gradually hardens and darkens, forming the distinctive agarwood.
Aromatic Compounds: As the resin matures and undergoes chemical changes, it develops a complex and unique aroma that is highly valued in perfumery and traditional medicine.
Harvesting: Agarwood can be harvested from the tree once it has developed and matured to a desirable level. This usually involves carefully cutting or removing the agarwood-infused part of the tree.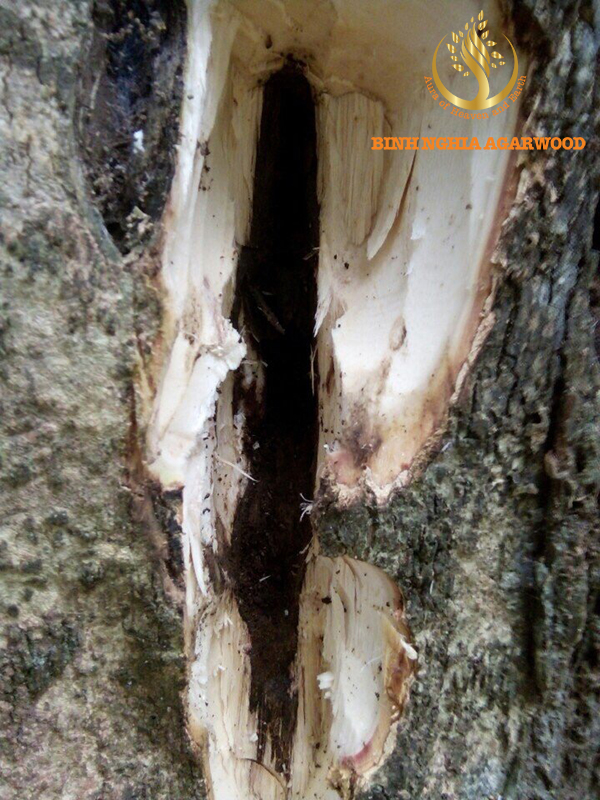 Processing: After harvesting, the agarwood may undergo various processing methods to enhance its fragrance, such as soaking, boiling, or sun-drying.
It's important to note that agarwood production is a slow and unpredictable process. Not all Aquilaria trees will produce agarwood, and the quality and quantity of agarwood produced can vary greatly. Due to its scarcity and unique fragrance, agarwood is one of the most expensive and sought-after woods in the world, making it a target for illegal logging and poaching in some regions. Sustainable harvesting and cultivation practices are being developed to help protect these valuable trees and conserve their populations.
Agarwood-producing trees, primarily belonging to the Aquilaria genus, are found in various geographical regions, primarily in Southeast Asia and South Asia. These trees are known for their resinous wood, which is highly prized for its aromatic qualities. Here are the main geographical regions where agarwood trees are found:
Southeast Asia:
Indonesia: Agarwood-producing trees, such as Aquilaria malaccensis and Aquilaria agallocha, can be found in various parts of Indonesia, including Sumatra, Kalimantan (Borneo), and Sulawesi.
Malaysia: Agarwood trees are distributed in regions like the Malay Peninsula and Borneo (Sabah and Sarawak).
Thailand: Aquilaria crassna, a species known for agarwood production, is found in Thailand, particularly in the northern and northeastern parts of the country.
Cambodia: Agarwood-producing trees can be found in certain parts of Cambodia, although the production is relatively limited compared to other countries in the region.
Vietnam: Vietnam is known for Aquilaria sinensis, another species that produces agarwood. These trees are found in various provinces, including Quang Nam and Quang Binh.
South Asia:
India: Agarwood-producing trees are found in various parts of India, including the northeastern states of Assam, Manipur, Mizoram, and Nagaland. In India, Aquilaria agallocha is the primary species responsible for agarwood production. Assam agarwood is particularly renowned for its quality.
Bangladesh: Agarwood-producing trees are found in the Sylhet region of Bangladesh, which shares its border with India's Assam state.
Other Regions:
Sri Lanka: While agarwood production is not as common in Sri Lanka, there are some reports of agarwood-producing trees in certain regions of the island nation.
It's important to note that not all trees in these regions produce agarwood, and the quality of agarwood can vary significantly. Additionally, the illegal harvesting of agarwood has put pressure on these trees, leading to conservation concerns in some areas. As a result, efforts are being made to promote sustainable cultivation and harvesting practices to protect agarwood-producing trees and ensure their long-term survival.